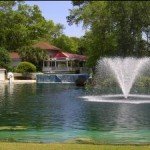 On June 17th and 18th Smith Mountain Lake made the bigtime on HGTV's (Home & Garden Network) House Hunters reality TV show. Paul Moore of the Smith Mountain Homes Realty Team was chosen to represent Smith Mountain Lake of all the lakes in the U.S. to be on the show. The show was part of a series HGTV did on home buyers looking for waterfront homes in various waterfront environments such as rivers, lakes and of course the ocean.
As you can imagine, the feedback has been tremendous, both in quantity and praise of the show. A minority of the viewers feedback had a negative slant, and even those gave good food for thought. We thought it would be interesting to share some of the comments from those who watched the show as it aired. To maintain folks privacy, we include first names only.
You did well and Smith Mountain Lake came out to the world in a very good way. Really makes us wonder what our house would be worth, seeing those last night listed for the prices they were.  We enjoy receiving your newsletters. Clyde
Watched HGTV last night!!! You did a great job!! Thinking maybe instead of going to Bethany Beach that we might come down there for a weeks vacation the week prior to the 4th. Who do you recommend that I go to for a rental??? Thanks for your help. Warmly, Pam
I think you set back Smith Mountain Lake 10 years with that awful presentation of 3 blah, dated, below average view houses ….these did not represent the Smith Mountain Lake I know and Love !  Steve
Great show! My wife was planning to watch this special all week but it was nice to let her know about last night's feature of SML. It was nice PR for the Lake. Perhaps you have a future in TV. Regards, Ted
You did a terrific job!
(George Clooney look out!)
We were really surprised to see the house sold was in our cove!  We were tickled that we actually saw a glimpse of our dock on the show!
I don't think anyone could ask for better exposure than national T.V. coverage!  I am sure your website will gain a lot of interest. Congratulations, Linda
We watched the HGTV show last night! It was fun!
I wish they would've shown more stuff about the lake though, some
people having fun on the lake etc….
Guess it is hard to fit all that in!
I noticed the change in the seasons a lot through the piece! How long
did it take to shoot it? Good Job. Shannon
CONGRATULATIONS on being selected for the agent on "House Hunters".
You have great talent and timing for being in the right place in the right time…good for you!
I wish the paper printed the article last week so I could have made plans to view the program. Ann
Mr. Moore,
Thank you for keeping me up to date on what is happening on Smith Mountain Lake. I do appreciate the e-mails you send. I have contacted other Realtors and once the learn we are not buying at the moment they stop communicating with me.
The e-mails that you send further our interest in SML, and ensure when we do begin our search for property it will be with you.
Thank you,
Debbie
I just wanted to drop you a quick note to tell you what a great job you did representing Smith Mountain Lake and the Realtors that live and work here last night on House Hunters!  I hope you and your family are going well!
Take care,
Thurston
We enjoyed learning a little about the lake. My father and I are and have been looking for a lake home for quite some time. We spoke with you this time last year and just felt that the most advantageous time would be closer to this summer. We are in the same price range as the couple on the show however; we are 100% interested in our frontage and view as opposed to the dwelling. We prefer trees and seclusion as opposed to open and close to neighbors.  Our hopes are to find a motivated seller and get a great view and a livable house.
Going forward, we currently live in Charlotte and would like any suggestions on how to make our visit the most efficient. Should we plan on two days? Where do you recommend we stay? Can you provide any listings for us look at before we make the trip?
Thanks in advance for your help, Kevin
We watched tonight and thought you were quite the pro.  I've watched this show many many times and have definitely seen some realtors who need to stick to their day jobs.  (We) would've gladly picked house 1 or 3.  I'll be in touch, Barbara