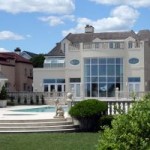 If you missed the recent episode of House Hunters on HGTV where Smith Mountain Lake, Virginia was the featured lake, you can now watch that show on a video. Click here to 
watch the video of SML on national TV
 and visit the real estate website of Paul Moore and Smith Mountain Homes (the realtor who was chosen to host the HGTV show).
But even more exciting is that HGTV is coming back for a second Smith Mountain Lake show! That's right, they liked the area and their experience so much that now they are planning another episode here. Paul got a call on his Blackberry recently saying HGTV was thrilled with Smith Mountain Lake, and they want to do it again!
This time they want to create an episode in their House Hunters® "Millionaire" series, and are looking for a buyer at the lake with a 'million-dollar price range.
Is that you?  Have you been waiting for the right time to invest in that dream waterfront home?   HGTV told Paul that if one of his clients were in that price range, they would seriously consider them for the show.
Perhaps now is the time to buy your dream waterfront home – and be on National TV – all at the same time!
The Merrills (from the first episode) had a blast watching themselves on TV, and their friends consider them "celebrities" now!  And I know that you would love the filming experience.
If you are interested in this, please let Paul know by emailing paul.moore@smithmountainhomes.com, or giving him a ring at (877) SML-HOME.
Free Download
The Definitive Guide To Smith Mountain Lake Real Estate
Everything you need to know about buying or selling property at Smith Mountain Lake.