Claiborne House is now Permanently Closed!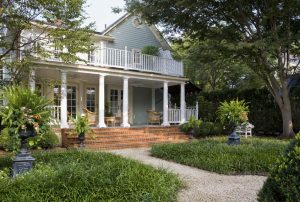 Most of the Smith Mountain Lake locals are aware of the pleasant little town of Rocky Mount located about 40 minutes away from the lake in Franklin County. What a lot of folks may not be aware of is the historic and very charming Claiborne House Bed and Breakfast situated in a quiet, picturesque neighborhood there. It is the perfect kind of place for friends and relatives to stay when they come to visit and want a central location from which to explore the area.
This lovely 1895 Victorian Home has been renovated and restored to it's original glory by the owners, Shellie and Tony Leete. The guest rooms retain their historical decor while also providing all the modern comforts such as private baths, comfortable beds, cable tv, ceiling fans, etc. Or there is a romantic one room cottage that has a fireplace and marvelous antique furniture which would be perfect for an anniversary or weekend getaway.
The grounds are as beautifully kept as they would have been a hundred years ago, with stone paths and manicured borders and incredible English Gardens complete with fountain, ponds and inviting seating where you can rest or take your tea for a chat.
One of my favorite features of this wonderful Queen Anne B & B is the wrap around porch, which seems to nearly go all the way around this marvelous old home. The rocking chairs and pretty views make you feel as if you could curl up there all day with a good friend or a book and not remember a care in the world.
If you would like to know more about the Claiborne House rates, reservations, etc. you can visit their website at http://www.claibornehouse.net/ or call them at 540-483-4616. Better yet stop by for a visit and meet Shellie and Tony, the friendly proprietors at 185 Claiborne Ave. in Rocky Mount, Va.