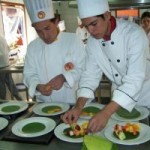 We have entered into the 4th quarter of 2009 at Smith Mountain Lake and the 3 most food-oriented months of the year. Folks start thinking of Halloween candy in October, Thanksgiving in November, and of course Christmas in December.
For those of you who feel the need for some fresh baking ideas for the coming season this 3 part demonstration/course being offered at Mariners Landing Resort Community and Conference Center, may be exciting news.
The first part of the series is called, Holiday Baking: Gourmet Made Easy. It will take place on October 17, 2009, from 2:00 – 3:00 pm and is part of Friends and Couples Weekend. Join Pastry Chef Susan McGehee (Mama Sue),  for Holiday Baking: Gourmet Made Easy.
The cost is $10 per person or $15 per couple and reservations are required, so contact them soon to save your place. Call (540) 297-4900 or email info@marinerslanding.com. Visit http://www.marinerslanding.com/ for more information.
Free Download
The Definitive Guide To Smith Mountain Lake Real Estate
Everything you need to know about buying or selling property at Smith Mountain Lake.