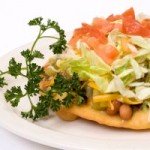 There are a couple of good Mexican restaurants at Smith Mountain Lake if you enjoy Mexican food. I rarely eat out because it's so hard to do so and eat healthy. But I have to confess Mexican is my favorite way to splurge when I want to go out with a friend or for a special occasion.
 Better still however is to make your Mexican food at home so you can use the highest quality ingredients and save money too. Below is a delicious recipe I found on Trader Joe's Fan site, that makes a wonderful centerpiece for a meal. You can add ingredients to make it a Mexican Pizza or shells and tortillas to make enchiladas, etc. It is a very versatile recipe and I think you will use it often once you try it.
If you are in the mood to go out for supper, I have listed the local Mexican restaurants below in case you have not given them a try.
5-LAYER BLACK BEAN DIP
2 cans whole black beans, drained
¼ cup orange juice
1 clove garlic, minced
½ tsp. salt
½ tsp. ground black pepper
½ tsp. olive oil
1 ½ cups guacamole
1 ½ cups sour cream
1 ½ cups diced tomatoes
1 ½ cups cheddar cheese, grated
Puree the first 6 ingredients in a blender or food processor. Place bean mixture in the bottom of a casserole dish, top with a layer each of guacamole, sour cream, tomatoes, and cheese. Serve with tortilla chips!
Cancun Mexican Restaurant & Grill
Ph. 540-719-2884 – Hardy, Virginia
Mexico Viejo – Phone: 540-719-5001
Mexican Grill and Cantina, Served Lakefront
 Moneta, Virginia
Los Amigos Bar & Grill Crazy Horse Marina
Ph. 540-912-0221 – Located in Moneta, VA
El Rio Mexican Grill Westlake
Ph. 540-719-1594 – Moneta, VA