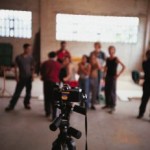 Some of the biggest news at Smith Mountain Lake in the past months has been the casting and production of the movie "Lake Effects". The even bigger news is that Jane Seymour will be playing one of the main parts as Vivian Tisdale, the family matriarch. We are excited to imagine that perhaps Ms. Seymour will be seen about the lake occasionally as the movie progresses.
Several people have asked who was cast for the other parts in the movie. The other actors/actresses named so far are as follows:
– Ray Tisdale – the family father will be played by Jeff Fahey (From the TV show "Lost" and movies such as "Grindhouse" and "Machete")
– Sara Tisdale – the main character, will be played by Scottie Thompson a Virginia native (From "NCIS", and soon to be released thriller "Skyline)
– Lily Tisdale – Sara's sister is played by Madeline Zima (From the TV show "Heroes", "The Nanny" and the Movie "Cinderella Story")
– Carl Berger, President of the Smithy Research Society – will be played by Ben Savage (From "Boy Meets World")
Other characters include: Mark Futterman played by Sean Patrick Flanery, Ash played by Casper Van Dien, Tyler played by Eyal Podell, Old Vic played by Richard Moll, Jim McCarren played by Richard Riehle, Winchester played by Ron Canada, Elizabeth played by Mary McDonough (Waltons) and a tourist played by Barry Papick.
Our congratulations to all these talented folks. This is truly some exciting stuff happening at the lake! Can't wait to see the movie. If you would like to read more about the Lake Effects movie, cast, or production you can visit https://www.lifeoutloudfilms.com/films.