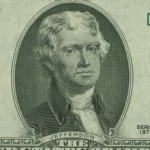 While many of us do not enjoy politics, we can also recognize the need for involvement at times regardless. This Smith Mountain Lake, Virginia event is perhaps one such event.
The 13th Annual 'Jefferson's Assembly' will be held on Thursday. October 1st 2009 from 5:30 – 7:30 pm at Thomas Jefferson's Poplar Forest (which is worth the visit in and of itself if you have never been).
The evening will include a great meal, entertainment, and comments from Legislative candidates.  Invited Guests Include The Governor, Lt. Governor, Attorney General, as well as VA. Senators and Candidates – VA House of Delegates.  The event is hosted by the Lynchburg Regional Chamber of Commerce, Altavista, Amherst County, Appomattox County, Bedford Area, Charlottesville Regional, Danville, Pittsylvania, Roanoke Regional, and Smith Mountain Lake Regional Chambers of Commerce. 
If you are interested in hearing more from and about our area's politicians, then this is the event to attend. Tickets are available at the SML Regional Chamber at Bridgewater Plaza on Route 122, Moneta, or by calling 540.721.1203. $20.00/members and $30.00/General Admission.