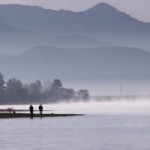 We recently mentioned a movie being filmed and produced here at Smith Mountain Lake. We have also been in contact with the lady who is behind the film, Sarah Timmins. There are so many positive things about the production company, (Live) Life Out Loud, as well as the movie being made (Lake Effects), that we plan to keep our readers in the know about what is happening. Here are a few excerpts from Sarah's communication with us:
The short update is that things have started to move.  We are still in the fundraising phase but the script and many of the creative details and resources have been secured and are ready to go.  We just returned from LA in November and are communicating with over a dozen film distributors and some TV networks who are extremely interested in the project and helping take it direct to family or woman's TV.  It appears family film is in demand and not enough product is available.
We are extremely hopeful that this momentum will continue and that we can reach the remaining funding early in 2010 and move on to the fun creative part.  I feel so honored to work with such an amazing community and look forward to supporting current city and lake efforts to promote economic development and tourism.
Thank you again for mentioning the film!  We are committed to working with the community and to do that and meet our fund-raising goals, awareness is so important.  We so appreciate everyone who supports us and spreads the word about "Lake Effects"!
Thanks and Happy Holidays!!
Live Life Out Loud,
Sara Elizabeth
DARE to Live Life Out Loud: Dream, Act, Risk Embrace
Check out "Lake Effects" latest TV and Radio interviews and articles at http://lifeoutloudfilms.com/
Sara Elizabeth Timmins
Producer/Creative Director
Life Out Loud Films LLC.
"Lake Effects"
sarae@lifeoutloudfilms.com