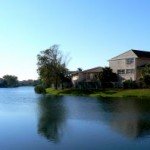 A friend recently pointed me towards a Roanoke Times interview with author David Baldacci, who lives part of the year on the Bedford side of Smith Mountain Lake, Va. The interview was quite interesting in all respects, but what caught my eye, in particular, was Baldacci's reason for buying real estate at the lake.
When you are a New York Times best-selling novelist, you can live about anywhere you wish; a fancy home on the ocean, a chalet in the mountains, etc. But David Baldacci, a Virginia native, ex-lawyer, and best-selling author of 17 novels, specifically wanted a lakefront home for himself and his family. When asked what brought him to Smith Mountain Lake he says,
"My wife and I wanted a home on a lake as opposed to the ocean. We had been down to North Carolina, which was nice, but there's a bad riptide, there's jellyfish. I have yet to find a shark at Smith Mountain Lake. We wanted to go boating and such, but with the salt water, you have to clean your boat off every time you take it out. Plus, we had gone down to North Carolina for several years and we kept noticing that the beaches kept receding. We just liked the idea of the fresh water and we didn't want to have to worry about hurricanes coming through and taking our house down. [Michelle] saw an ad for SML. Being from Virginia, I'd heard of SML but had never been there. As soon as we saw the water and the mountains, we were hooked.
I find myself in complete agreement with Baldacci's. To me, a lake offers all the loveliness and wonder that living on the water can bring, without most of the scarier elements of living by the sea. The ocean is surely one of God's most majestic creations, and I love to visit and soak up the beauty there. But for everyday living, I would choose a lakeside home any day.
The Baldacci family say they enjoy every kind of water sport imaginable at the lake from motorboating, wakeboarding, skiing, slalom, tubing, some sailing, cruising on Sea-Doos, reading, swimming, sunning, to floating in the water with a cool drink or doing nothing. If you keep your eyes open you might even see them at Viera's, Mariners Landing, or the Blackwater Cafe according to the Roanoke Times interview with Laurie Edwards.
Free Download
The Definitive Guide To Smith Mountain Lake Real Estate
Everything you need to know about buying or selling property at Smith Mountain Lake.