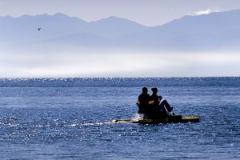 Producer Sara Elizabeth Timmins of Life Out Loud Films, and a native of Virginia, says more SW Virginia filming is in the works.  Life Out Loud is rapidly gaining a reputation as a production company for quality inspirational films. It is their effort to keep costs down and quality up as they try to better each community that becomes the background for their films. And with each film they make a portion of the proceeds is given to some good cause,  such as community clean-up or the Scott Winter's Scholarship Fund.
"Lake Effects", their first movie in Va. featured well known actress Jane Seymour and was filmed on location at Smith Mountain Lake and released in 2012. This film portrays the secrets, struggles and personal growth of 2 estranged sisters who come home when their father dies.Their next film, made in Giles County, Va. was "Wish You Well" based on the David Baldacci (New York Times bestselling author) novel. You can watch for it's release in 2013.
While Ms. Timmins is not telling much yet about the next 2 films to be released, she does say that they will be as intriguing and inspiring as the others! Keep your eyes open for Life Out Loud's latest production, "Wish You Well". For more information you can visit http://www.lifeoutloudfilms.com/.