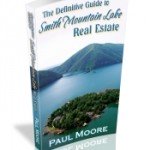 Are you interested in promoting Smith Mountain Lake as well as making a bit of profit for yourself in the process? Sell Paul Moore's book, The Definitive Guide to Smith Mountain Lake Real Estate!
This is an excellent book covering multiple facts, history, and real estate issues(for both buyer and seller) regarding Smith Mountain Lake. It is also an excellent resource for those of you who would like to have something tourists can use for information about the lake. It is well-written, easy to read, and loaded with helpful facts for anyone living at the lake or visiting.
"Paul's expertise is unmatched… We would highly recommend his book!"  – Suzy & Dave Barta.
"I had no idea there was so much I didn't know about SML, and I live nearby. Everyone in the area should read Mr. Moore's book." –  H.S. Nicholson.
If you are interested in reading the book for yourself or purchasing them for resell, then contact Paul Moore at paul.moore@smithmountainhomes.com.
Free Download
The Definitive Guide To Smith Mountain Lake Real Estate
Everything you need to know about buying or selling property at Smith Mountain Lake.