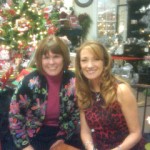 On October 22nd at Smith Mountain Lake, an extremely long line of over 500 people waited eagerly to meet Jane Seymour as she signed her newest book, "Among Angels". Ms. Seymour was at the lake as a main character in the movie "Lake Effects", as well as promoting her newest book in Roanoke and at Smith Mountain Lake.
Teresa Criner, a local realtor with Smith Mountain Homes and Wainright & Co. arrived at Cottage Gate in Hardy, Va. for the book signing around 5:45 p.m. and found herself near the end of a line that went clear past the Westlake Library and Haywoods Jewelers. The signing began around 5 p.m. and lasted until 7 p.m. with so many people showing up that the gift shop ran out of books!
In Ms. Criner's own words, "In the beginning, Jane was personalizing notes on all the books, but she had to discontinue that because of the large number of people waiting in line. They even ran out of books for people to purchase, although those without books were able to order them for Jane to autograph and be delivered to the store at a later time."
"After waiting about an hour and a half, I was very pleased to be able to meet Jane personally and have my books signed. I also thanked her for being there for the book signing and for the movie filming of " Lake Effects" which everyone around SML is so excited about. She asked me if I was enjoying her book and I let her know that I certainly was. I also gave her a copy of Paul Moore's book The Definitive Guide to Smith Mountain Lake Real Estate. I told her I hoped she had enjoyed her time at the lake and she seemed genuine as she replied that she had enjoyed it."
Jane Seymour left town on Sunday after wrapping up her part in the filming of the Lake Effects movie.