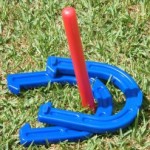 Even though we receive regular reports from different direction, it is still hard to keep up with all that is going on this summer at Smith Mountain Lake. But that is a good thing as it means there are so many wonderful things to do that it might be a little hard to choose. There are educational outings, fabulous cuisine opportunities, family oriented fun and much more.
Horseshoe Tournament for Memorial Day Weekend – Saturday, May 29. Horseshoe competition starts at at 12 noon, and the rest of the fun at 3 p.m. The cost is $15 to compete for cash prizes. Bring a lounge chair and some snacks or purchase food at the tournament. Sign up at Dudley Mart in Wirtz, Va. or for more info. call 540-721-1635.
Hickory Hill Vineyards and Winery Sunset Saturday Memorial Weekend – good music, good time with the family, and of course good wine. You can enjoy all this in a beautiful picnic area overlooking the vineyard! Sunset Saturday features many local music talents! Pack a picnic, blankets and chairs and bring the family! Visit www.hickoryhillvineyards.com or call at 540-296-1393.
Magnum's Boathouse Restaurant and Marina at Indian Point is having their Grand Opening and Ribbon Cutting Wednesday, June 2 from 11:30am – 1:00 pm with the Ribbon Cutting at 12:15 pm. It is in the old Viera complex on Morewood Rd. in Hardy, Va.
Smith Mountain Lake Regional Chamber of Commerce Ambassadors has come up with something new – a
summer fun golf outing
. Enjoy an evening of mini-golf fun along with others in the community. Families and non-chamber members are welcome to participate. Entry fee includes: BBQ Dinner, beverage and Green Fee. For more information contact Jim Shauberger at 540-721-1203 or email at
jims@visitsmithmountainlake.com
.
Social Media for Small Business Owners – Class starting June 15th and offered by The Smith Mountain Lake Regional Chamber and VWCC. Business owners are quickly discovering that an online presence is necessary in today's marketing landscape, and even that isn't enough. Adding multimedia can give your business a competitive edge. Participants in the Social Media course will learn how to create, edit, and publish audio and video casts and explore advanced social media marketing techniques. Come armed with ear buds, a digital camera, and a sense of adventure!
Location: Westlake Library, Route 122(next to Kroger)
Dates: June 15, 17, 22 and 24
Time: 3:30 pm – 7 pm
Cost: $110(SML Chamber members), $130(Non-SML Chamber members)
Pre-requisite: Social Networking 101 or equivalent experience. Only 12 – 15 people will be able to register for the class so please sign up as soon as possible if you would like to attend. For more information or to register for the class e-mail Annette Stamus at annette@visitsmithmountainlake.com.
Ribbon Cutting and Grand Opening for Anchors Aweigh Entertainment owned by Jason Hawes on Wednesday June 16 from 11:30 – 1 pm. with the Ribbon Cutting at 12:15 p.m.
Directions: 16503 Booker T Washington Hwy, Moneta – just across the street from the Visitor Center/ Chamber Office at the Bridge. Hamburgers and Hot Dogs and drinks will be served. Reed Dillon is the Ambassador.
The SML Chamber is collecting applications for the new 2011 SML license plate. We must receive 350 prepaid applications by July 1 to qualify before other requirements can be implemented and the state begins production and distribution of the Smith Mountain Lake license plates.

Free Download
The Definitive Guide To Smith Mountain Lake Real Estate
Everything you need to know about buying or selling property at Smith Mountain Lake Virginia.
Take Our Free Quiz. Test your knowledge of buying a home.