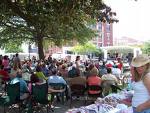 From Memorial Day to Labor Day Smith Mountain Lake is in full swing. Since our area is such a popular vacation spot we see a lot of visitors and Memorial Day weekend is sort of the 'kick off' event for a summer of fun. No one should really need an excuse to spend time with the family or teach the kids what Memorial Day is all about, but if you do, below are a whole list of them for this coming weekend.
On Saturday, May 24 from 8-10 pm. at Smith Mountain Lake State Park, you can bring your lawn chairs or blankets to the beach pavilion and have a great time listening to some local bluegrass bands and cloggers. Call for more info. at 540-297-6066 or visit Virginia State Parks.
Sat. May 24th you can also visit the National D-Day Memorial in Bedford, Virginia at 7pm. for some 1940's and patriotic music. Call for more information at 540-586-3329 or visit www.dday.org.
May 24 – May 26 – Memorial Day Weekend at Peaks of Otter Winery – 12:00 Noon to 5:00 pm – Start your summer at Peaks of Otter Winery with a glass of wine while gazing at the mountains and enjoying the valleys. – Peaks of Otter Winery, 2122 Sheep Creek Road, Bedford – Free – 540-586-3707 – www.peaksofotterwinery.com.
May 24 – May 26 – Scott's Strawberry Farm Festival – Saturday – 10:00 am; Sunday – Noon; Monday – 10:00 am – Family fun. Carnival Rides, Crafts and food, homemade ice cream, live music each day, flatfoot contest, cash prizes. Homemade Strawberry Dishes! You pick or buy fresh strawberries. – Scott's Strawberry Farm, 5234 Joppa Mill Road, Bedford County. Call Barry or Dannielle Tosh 540-297-1615 for more information. Tractor & Yardmower pull on Sunday May 24th only. – Free – 540-297-7917
May 24 – Sunset Saturdays at Hickory Hill Vineyards & Winery – 4:30 pm to 8:30 pm – Local Wine * Local Music * Local Flavor Listen to VA singer/songwriters perform as you enjoy an evening of good food, friends, fun and wine. Bring chairs and blankets and settle in to watch the sun set over the vineyard. Food vendor onsite! – Hickory Hill Vineyards & Winery, 1722 Hickory Cove Lane, Moneta – 540-296-1393 – www.smlwine.com
On May 25 the Old City Cemetery in Lynchburg presents Confederate Memorial Day Service at 3:00 pm – Old City Cemetery, 401Taylor Street. Call 434-847-1465 – www.gravegarden.org
May 26 – Remembering Their Sacrifice – 11:00 am– To observe Memorial Day, the Memorial will have a wreath-laying ceremony to pay tribute to those who have given their lives in service to our nation. The ceremony includes music and special speakers. Free admission from 10 am until noon. – National D-Day Memorial, Bedford – 540-586-3329 – www.dday.org