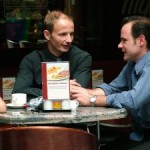 If you have wanted to be a part of some sort of social activity at Smith Mountain Lake but weren't sure what was available, here are a couple of ideas for you.
Smith Mountain Lake Woman's Club: This group is really neat as it focuses on giving funds to programs that help women and children. It is the local chapter of the Greater Federation of Women's Clubs and it meets at 10:30 a.m. on the third Tuesday of each month at the Westlake Country Club, 360 Chestnut Creek Drive, Hardy. Contact Karen Over for more information at (540) 721-2100.SML
Harmeneers Barbershop Chorus: This one sounds like a lot of fun if you are a guy who enjoys singing. It is open to all men who like to sing. The group meets from 7 to 9 p.m. every Monday at Bethlehem United Methodist Church, 13586 Moneta Road, Moneta. For more info. you can call Michael Nee, at (540) 721-2123.
Free Download
The Definitive Guide To Smith Mountain Lake Real Estate
Everything you need to know about buying or selling property at Smith Mountain Lake.