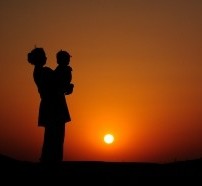 If you have a Mother on this earth who loves you, then you are most richly blessed. It is easy to take the dearest people in our lives for granted and not even realize it. Mothers are people who often spend incredible amounts of time caring for, praying for, and trying to improve the lives of their children, whether they are grown or young and still at home. There will never be another person in the world who invests in you as your Mother does……..so don't let a single day go by without letting her know how much she means to you. I hope you enjoy the mother's day ideas below.
Mother's Day is just another opportunity to show the woman who gave you life…….how valuable she is. If you are having a hard time coming up with something special to do for your Mom, you might find the ideas below helpful. However, if your Mom is anything like mine, the most precious thing on earth is just for you to spend some quality time with her!
Take her to Smith Mountain Lake Park for the day (or whatever park is closest to you); take her shopping and help her pick out a new outfit; Give her coupons for free house cleaning (she is not as young as she used to be); Take her to her favorite book store to pick out a few new favorites; Give her gift certificates to her favorite stores and go with her to use them; Buy her flowers she can plant and help her plant them; If she likes to fish take her out on the lake for the day; If she enjoys fine wine take her up to Chateau Morrisette for lunch and a tour…the possibilities are endless when love is at the helm!
Take her out to Sweet Frog Premium Frozen Yogurt in Westlake: Open 7 days a week now through August with Mother's Day specials on May 12th!  New Hours are Sunday-Thurs 11-9 pm, Fri & Sat 11 am-10 pm.  Come try our latest flavors and over 60 toppings!  540-524-9191  See you there!
Mother's Day Tea – May 12th at 3 pm – See a tea set owned by the Burroughs family, learn about the tradition of tea taking or "supper" in Franklin Co., Hampton, Tuskegee & details of Booker's tea with Queen Victoria. Pre-registration is required.
Mother's Day Luncheon Cruise – Treat Mom to a Luncheon Cruise aboard the Virginia Dare Cruise Boat!!  All moms receive $5.00 off! Mother's Day is on Sunday, May 12th and we'll Cruise from 2:00 pm-4:00 pm. For more information or to make Reservations, please give us a call at  540-297-7100.
Casa D' Amici in Downtown Moneta presents Mother's Day Brunch on Sunday, May 12th. All-you-can-eat brunch including a carving station, omelets, peel-and-eat shrimp, entrees, pasta salad bar, fresh fruit, Belgian waffles, breakfast meats, eggs benedict, and more.  Reservations are recommended.  Just call 540.296.1329.
Treat Mom to a Special Lakeside Mother's Day Brunch with a wonderful menu at The Landing on May 12th. Views of Smith Mountain Lake from almost every seat in the house.  The Landing Restaurant at Bernard's Landing will provide the food, atmosphere, and flowers.  All you need to do is bring your fabulous Mom!! Call 540.721.3028 to reserve your place.

Free Download
The Definitive Guide To Smith Mountain Lake Real Estate
Everything you need to know about buying or selling property at Smith Mountain Lake.