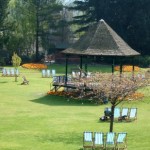 Looking to make some good late summer memories of your time at Smith Mountain Lake?
Then the Beach Pavilion is just the place for you on Saturday, August 27th. That is when the Friends of Smith Mountain Lake State Park will provide another great evening of Music in the Park!
No doubt the performances by Wound Tight and The Old Dominion Cloggers will be something to talk about for days. The parking is FREE. Admission is only $5 per person with kids 12 and under allowed in free.
Food and snacks will be available for purchase on-site. So bring a comfy lawn chair or blanket, a few friends, or the whole family, and be prepared to enjoy an evening of old-fashioned fun. For more information about this event, you can call 540-297-6066.
Free Download
The Definitive Guide To Smith Mountain Lake Real Estate
Everything you need to know about buying or selling property at Smith Mountain Lake.