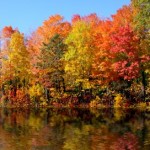 Unique cafes, designer clothing shows, tree plantings, opera, and much more can be found in and about Smith Mountain Lake Virginia this fall. There is never a month going by but you can find something fun and entertaining going on at the lake or nearby. If you don't find something that interests you (and perhaps the whole family) in the list below, I will be surprised.
Thanksgiving for the Bounty of the Harvest at Peaks of Otter Winery. Sat. Nov. 1st and Sun. Nov. 2nd. The sweetest cider, the most succulent apples, the jars of preserves, jams, and jellies, the warmth of wine, and conversation are here to share. Free Noon-5 p.m. Picnic and also Visit The National D-Day Memorial, Bedford Museum, and Poplar Forest. Info: 540-586-3707. E-mail: appleseed@earthlink.net. Website: www.peaksofotterwinery.com.

Poplar Tree Restoration and Ceremonial Planting on Saturday, November 1st, 2008. Witness history as Poplar Forest restores five tulip poplar trees on the grounds of Thomas Jefferson's retreat, Poplar Forest. Cultivated from historic stock at the Center for Historic Plants, planting the five trees marks the first steps taken to restore the Poplar Forest landscape to the way Jefferson knew it. Open to the public, a planting ceremony will be held at 4:30 p.m. Free grounds admission for the planting, admission charged for house tours.
The Carlisle Fall/Holiday Trunk Show features contemporary or classic themes, formal tops or casual pants, an all-business attitude, or pure romance.  Grand entrance guaranteed for New Year's Eve!  There is something for everyone.  Gift certificates in any amount, gift wrapped with elegance, guaranteed to thrill her on Christmas Day!  Call Betty Lesko, at 540.721.9367, or bhlesko@hotmail.com for your appointment or more information for the Fall/Holiday Show, October 31-November 11.  Good Clothes Open All Doors!  cell 540-537-8066;  540-400-8467.
Art Show at Savoy-Lee Winery on Nov. 1st (Saturday). "Artists on the Loose" and their Oils, Watercolors, Pencil, and Stained Glass are on display and ready for purchase. Art demonstrations. Reception: 1 pm-5 pm. Light Snacks. Wine Tasting including mulled wine. Come out and meet the artists! Phone: 540-297-9275 www.savoy-lee.com.
Opera Roanoke presents Handel Arias and Mahler's Song of the Earth on November 2, 2008, at 2:30 p.m. in JeffersonCenter's Shaftman Hall.  The program features international artists Elizabeth Futral, Donald George, and Nancy Maultsby with the Roanoke Symphony Chamber Ensemble.  Steven White conducts.   For more information and tickets, call 540-982-2742.
LoveStone Inn Bed & Breakfast BEST EVER Midweek Special:  September 2 – November 15, 2008, Monday – Thursday night reservations are ½ off!  You will enjoy our great breakfast, views, hospitality, hot tub, sand beach with a fire pit, swimming, fishing, gardens, and Fall Colors.  Reservations: 540-296-0510.  LoveStoneInn@aol.com or Look us up at www.LoveStoneInn.com. (Updated January 2021: Lovestone Inn is out of business).
Have you seen the article by Rebecca Jackson in the Eagle on Wednesday, October 8th?  Take a look – Water is our most precious resource and we are running out of it!  The article features a new product which will produce water from the air!  Special offer extended – Buy a unit before 11/11/08, mention the SML Chamber eBlast and receive a $100 gas gift certificate! Call 540.520.8725 for additional information.
Free Download
The Definitive Guide To Smith Mountain Lake Real Estate
Everything you need to know about buying or selling property at Smith Mountain Lake.