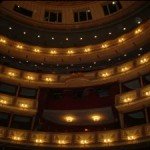 Smith Mountain Lake is close to Southwestern Virginia's only professional opera company: "Opera Roanoke". Not everyone is interested in this amazing form of storytelling, but those who are will be impressed with these performances.
One of America's most sought-after and respected conductors, Maestro Steven White has conducted most of the company's productions since 1999, and this year's recitals feature Metropolitan Opera stars Kallen Esperian and William Burden.
Opera Roanoke's 34th season begins on October 17, 2009, with "Wagner in the Valley: An Introduction to the Ring and Beyond", and a concert performance of "Lucia di Lammermoor" rounding out the season.
You can attend a full-size and fully-staged production by Opera Roanoke as well as several smaller-scale productions throughout the year at Shaftman Performance Hall in Roanoke's Jefferson Center. For more information, call 540-982-2742 or visit www.operaroanoke.org.