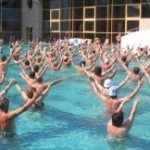 I don't know about the rest of you at Smith Mountain Lake, but I sure appreciate the local workout facilities like the YMCA. It is easy to tell yourself you are going to exercise regularly, and just a bit harder to follow through with that worthy goal.
Going to the YMCA changes that difficult area of self-discipline into something more fun and easier to attain. They provide all the equipment and even some companionship for working out. If you have not checked out a Y, visit one of our local ones for a great experience.
The Franklin County YMCA has expanded its facility in the LakeWatch community area with more classes, indoor tennis, exercise equipment, and basketball. In the future, they plan to add an indoor pool as well. Call them for more info. at 540-489-9622.
The Moneta YMCA facility has recently relocated to the Cardiac Care Center in the Mayberry commercial complex, while its permanent home is being built. You can tour their facility at 1039 Mayberry Crossing Drive, Moneta. Or you can call them at 540-296-1059. For a limited time, the YMCA will offer NO JOINERS FEE.
Free Download
The Definitive Guide To Smith Mountain Lake Real Estate
Everything you need to know about buying or selling property at Smith Mountain Lake.