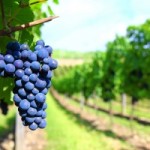 Nancy and Danny Johnson with their son Shannon and wife Donna, own and operate Peaks of Otter Winery, Johnson's Orchards, and Elmo's Rest in the Blue Ridge Mountains of Bedford, Virginia. They are encouraged by their son Dan and his wife Kristin who live in Seattle but remain loyal to the home farm in Virginia.
J Elmo Johnson, the great-grandson of John T. Johnson, established Johnson's Orchards in 1919 in the area of the property that had been in the family since the 1750s. In 1995 the Johnsons considered making wine from the fruits they were growing. More and more Virginia Wineries were being established and were attracting an increasing number of visitors. The commercial apple business was in decline and the Johnsons felt that the addition of a winery would also be a way of selling more of their fruits directly to consumers. Shannon, who is now the winemaker, says that 70% of the fruits used in the wine are grown on the farm. Grape vines, primarily Norton and Concord are now bearing with new ones coming on. Berry plants have been planted and are bearing.
Peaks of Otter wines are reminiscent of "Grandmas or Great-Grandma's" wines, those old-fashioned wines made from a variety of fruits. A venture into vegetables using chili peppers,  to make "Kiss The Devil" wine and blend with apple wine to make "Chili Dawg" wine, (this Dawg will bite)has been so successful that "Chili Dawg" is now a top-selling wine.  "Fruit of the Farm" wines have changed Virginia's tasting buds. You will find Grandson Jordon and his wife Lindsey at many festivals along with Grandson Josh and friends Wayne and Andy. All of these help in the winery and on the farm. You will find Vicki keeping the home fires burning and pouring wine at the winery. Many of the wines are made from Danny's grandmother's recipes and the fruits or berries are fermented in apple juice and require less sugar to turn the fruit into wine. At this time more than 25 wines are produced with our newest wines fermented in apple juice being "Pumpkin Pie" and Pomegranate.
In 1996 Virginia's wine country did an about-face when Peaks of Otter Winery opened its doors as Virginia's 50th winery and the state's first all-fruit winery. Now many years later a good number of Virginia wineries have added fruit to their menu. If you missed seeing and tasting Peak's wines, then you must not have attended many festivals. Their tent will be the loud one, the one you hear people hollow "WOO" after tasting their "Kiss the Devil" wine and then they receive a Kiss the Devil Sticker. This is the wine that Peak's people always recommend that you wait till last to taste at a festival. It is a hot pepper wine that is great for cooking and basting.
Peaks has squirted thousands of miles of easy cheese, ½ inch at a time, on peoples' fingers for them to taste before tasting the "Chili Dawg"  a hot pepper jelly-tasting wine that is good with hors d'oeuvres and even a bland meal. Their Cinfulicious is a wonderful holiday wine heated up, as is the "Pumpkin Pie". Peak's 25 to 30 award-winning fruit wines are just as versatile as their fruit orchards and taste a lot like Grandma's wines. They have berries, cherries, peaches, plums nectarines, and apples u-pic or u-select in season. All these fruits are made into award-winning wines plus more like The "Salty Frog", "Puff", "Café Vino', "Vino De Mint" and "Vino Colada"
Children and adults love visiting the farm to picnic, pick fruit or visit the farm animals. You can enjoy even more animals at the annual Horse and Hound Wine Festival held on the 2nd Saturday in July. Children, adults, and dogs love it. For info go to www.BedfordWine.com.
The Johnsons along with many volunteers and other local businesses that participate in sponsorship have established the Blossom to Bottle 5K for the benefit of the Local Oncology Program. This program is for anyone in the Bedford County/City area who has been touched by cancer as a patient, spouse, support caretaker, or family member. The funds raised by this 5K go directly to support this oncology program. The 5k is held annually on the 2nd Saturday of April. For info go to www.BlossomToBottle.com.
The Johnson family who owns Peaks of Otter Winery and Orchards have deep roots in Bedford County stretching back to the 1750s. Their ancestral home at milepost 86 on the Blue Ridge Parkway is very popular with parkway travelers. The Johnsons made apple brandy on the creek right below this house, so they have had apples and alcohol in their veins for a long time. You will want to make a day trip and visit Peaks of Otter Winery and Orchards and taste their fruit wines, fruit, jams, jellies, and butters. It will be an experience that you will never forget and you cannot beat the views along the way. There is a vacation rental house, Elmo's Rest, in the middle of the farm  (www.ElmosRest.com ) where you can rest for a week and remember a lifetime. These many things and gracious hosts make this winery uniquely suited to family visits and it is only 7 miles from the National D-Day Memorial.
Free Download
The Definitive Guide To Smith Mountain Lake Real Estate
Everything you need to know about buying or selling property at Smith Mountain Lake.