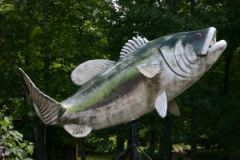 Even though most of us generally don't think of our home town as being a world famous location, Smith Mountain Lake is actually famous for a variety of  records set on it's shores (or in it's waters). All world records are human interest stories in one way or another……and some of these may surprise you as they did us.
In 2012 Tom Jones spent two weeks paddling the outskirts of Smith Mountain Lake in order to set a new freshwater distance world record for stand up paddling. He paddled 520 miles (averaging 20 miles a day) in the shortest time ever!! Why did he strive for this kind of recognition? Mr. Jones is dedicated to childrens causes and has worked with children's foundations in the past, after a childhood spent in an abusive foster home. He created the Tom Jones Foundation, with hopes of aiding the next generation and helping to prevent child abuse! This marked his third world record.
Smith Mountain Lake is well known to fishermen all over the US for it's striped bass fishing. The current state record for the fish is 53 lbs. 7 oz. caught in 2000 from below the SML dam in Leesville Lake. However most prior striper record makers were all from Smith Mountain Lake; the last in 1999 weighed in at 49 lbs. 4 oz. Although it is famous for it's striped bass, SML also contains remarkable  largemouth bass, smallmouth bass, muskie, crappie, walley, catfish and more.
In just three years, the Eagles Franklin County High School marksmanship team in Franklin County, Va. went from having no marksmanship team at all, to being champions. In Feb. 2013 the Franklin County High School Air Force Junior ROTC won the national competition in marksmanship. Later this year, they'll compete against the Army, Marines and Navy teams across the country and have a chance to do what no Air Force team has ever done; be the best out of all the service branches.
The record for the highest temperature at SML was 102 degrees in July 1988……..and the record for the coldest temperature was -11 degrees in January 1985.