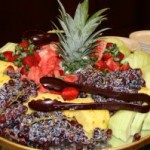 I am sure I am not alone in thinking this is one of the hottest endings to spring that I can remember at Smith Mountain Lake. Although it's cooling down just a bit, with summer beginning on June 20th there are many wonderful, warm days ahead to look forward to.
When the weather steams up I start craving cool, light fruity foods and so have been looking for fun ideas to spice up the possibilities. I found the following 2 delightfully tasty and cold concoctions on Group Recipes and there are many more where these came from. Give one a try the next time you feel your temperature rising.
Honey Lime Fruit Toss
1 can unsweetened pineapple chunks (20 oz)

1 can mandarin oranges, drained (11ounces)

2 cups sliced fresh strawberries

2 medium firm bananas, cut into 1/4 inch slices

2 kiwi fruit, peeled, halved, and sliced

2 tablespoons lime juice

1 tablespoon honey

1/4 teaspoon lime zest
Drain pineapple, reserving 1/4 cup juice; set juice aside.

In a bowl, combine the pineapple, oranges, strawberries, kiwi, and bananas.

In a small bowl, combine the lime juice, honey, lime zest, and reserved pineapple juice.

Pour over fruit and gently toss to coat.
Grapefruit Granitas
2 1/2 cups fresh pink grapefruit juice at room temperature
1 cup boiling water
1/3 cup caster sugar (or SUCANAT)
Mint sprigs for garnish
Combine water, sugar, and juice in a bowl and whisk until sugar dissolves.
Pour liquid into a baking pan. Freeze until hard, about 3 – 4 hours.
To serve, scrape with a fork and spoon the scrapings into small chilled martini glasses or small glass bowls.
Garnish with small sprigs of fresh mint.