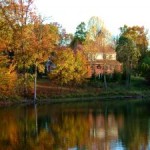 Are you trying to squeeze in one last little vacation at Smith Mountain Lake before winter sets in? So far the weather has been perfect for a weekend on the lake. Weddings are still taking place outdoors and there has been sunshine in abundance this month since it is no longer peak season, you should be able to get excellent rates.
You might be amazed at how many wonderful rental properties there are close by that you may have never seen. There are cabins, cottages, fully furnished homes, privately owned rentals, commercial ones, and of course hotels and inns in lovely locations.
If you are hoping for one more weekend jaunt and have not found what you are looking for, don't give up. Check out the resources below and take the family for a fun getaway. Some of these wonderful rentals are even fantastic in the wintertime, if you don't have time or money right now.
Smith Mountain Lake Vacation Rentals Inc.
Home Away SML Vacation Rentals
Free Download
The Definitive Guide To Smith Mountain Lake Real Estate
Everything you need to know about buying or selling property at Smith Mountain Lake.