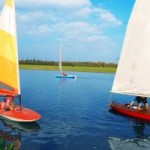 Sunshine and warm weather, blue waters, and weekends at Smith Mountain Lake…….. make you feel like sailing off into uncharted waters sometimes. Well, at least it does me. This kind of balmy spring day makes me chafe at having to be indoors. They make me wish for an adventure of some kind and since I love the water, what better adventure than learning to sail?
The Smith Mountain Lake Sailing School was designed to provide U.S. Sailing Certified instruction for beginning sailors and continued education for those who already had a good deal of experience to hone their skills. They offer classes that cover basic boat handling for the novice, clear-up to spinnaker maneuvers with a crew, and everything in between. All involve plenty of experience on the water. They plan for their students to safely have a boatload of fun.
Smith Mountain Lake Sailing School is located off Gills Creek in Franklin Co. For more information about prices, private coaching, or to enroll in a class you can call 540-719-0009. Or you can email Pete Phillip at phillip3511@aol.com and visit their website at Smith Mountain Lake Sailing School.
Free Download
The Definitive Guide To Smith Mountain Lake Real Estate
Everything you need to know about buying or selling property at Smith Mountain Lake.