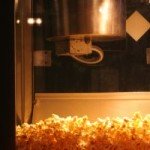 I am always looking for items of interest regarding our illustrious Smith Mountain Lake, and in the process recently experienced an odd sequence of events.
Last year I wrote a post about the new drive-in theatre due to open in the near future at the lake and had not heard any more since. So I had begun trying to check on it, when a question about what had happened to the plans for the theatre came in from a reader.
I had not uncovered any solid information worth printing however, when I was reading Business Week online, and lo and behold, found an entire article on the soon to open drive-in at Smith Mountain Lake! It seems they had reprinted an article from the Roanoke Times online . It is a great article and lets us in on some romantic details about the owners, as well as their opening plans for October, etc.
Rather than reprint the article a third time, I will give my readers the links for both articles and you can take your pick.
To read from The Roanoke Times, or to subscribe to the newspaper, go to http://www.roanoke.com/.
To read from Business Week click here.