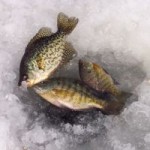 Everyone knows that Smith Mountain Lake is famous for its bass fishing. Many people even know that the striped bass and large and small-mouth bass (black bass) are among the most popular species of fish in the lake.
What you might not know unless you are an avid fisherman, is that there is a whole boatload of other species of fish in the lake that are fun to look at and/or good for bait or eating. Just to name a few there are crappie, sunfish, muskies, white perch, yellow perch, channel catfish, white catfish, flathead catfish, and shad. There are also spotted bass, walleye, muskellunge, ring perch, crappie, bluegill, and rock bass (redeye).
For a map of Smith Mountain Lake so you can see where you are going and where you have been and even be better able to find the best fishing spots, click here. That link takes you to the Virginia Department of Game and Inland Fisheries. On that same site you can find thousands of other fishing and hunting facts to guide you in your favorite sport.
Free Download
The Definitive Guide To Smith Mountain Lake Real Estate
Everything you need to know about buying or selling property at Smith Mountain Lake.