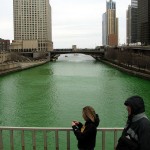 If you are seeing green at Smith Mountain Lake this week, it may not be just signs of spring. The wearing of green on Saint Patrick's Day, March 17th, has become an international tradition.
But why do we wear green and who exactly was Saint Patrick? Interesting questions with interesting answers.
The bottom line is that St. Patrick (born as Maewyn Succat) was the bishop who brought Christianity to the Irish. Unfortunately, his first experience with Ireland was when Irish raiders attacked his country (probably somewhere in Britain) and took the 16-year-old boy as one of their prisoners. After he escaped six years later, he said he'd had dreams from God telling him to return to Ireland as a missionary. He began training for the priesthood and after 15  years, he returned to preach the gospel all over Ireland for 40 years. He died March 17, 461 AD, the day we call St Patrick's Day.
Why do we wear Green? Well, there are several possibilities, the most popular being that St. Patrick used the green shamrock (3-leaf clover) to explain the Trinity (Father, Son, and Holy Spirit) as he preached. Other connections include these facts: Ireland is often called the "Emerald Isle," because of its lush green landscape, Green is one of the colors in Ireland's tri-color flag, the color of spring, and of course the shamrock.
Even though St. Patrick was an Irish saint, twas Americans who held the first parade in his honor. Perhaps due to the large number of Irish immigrants in the US at the time, Irish soldiers in New York City had the first St. Paddy's parade when they celebrated by marching through the city's streets in 1792. Today the most famous St. Patrick's Day parade is in Chicago, where they dye the Chicago River green. (Thanks to Wikipedia User Mathprog777 for the great picture of  the Chicago River in 2008.)
There are many fun legends surrounding St. Patrick's Day regarding leprechauns, pots of gold, being pinched, etc. We will have to save some explanations for another day. Or you can of course google them for yourself. Either way, we wish you a Happy St. Patrick's Day and an incredibly gorgeous green spring!
Free Download
The Definitive Guide To Smith Mountain Lake Real Estate
Everything you need to know about buying or selling property at Smith Mountain Lake.