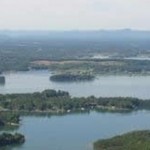 Smith Mountain Lake is a lovely actress with many different faces and personalities, each one beautiful in its own way. Seen from the sky she is shining and sinuously graceful. Riding her clear blue/green waters she is soothing and mysterious. Observing her from the shoreline she is both distant and inviting.
If you have ever needed to find your way around this charming body of water by way of air, road, boat, or foot, check out some of the map links for the area below. Enjoy your lake this summer and experience it from a new perspective.
Virginia Dept. of Game & Inland Fisheries
Free Download
The Definitive Guide To Smith Mountain Lake Real Estate
Everything you need to know about buying or selling property at Smith Mountain Lake.