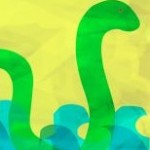 You have heard of the Loch Ness Monster, but how about the Smith Mountain Lake Monster? Well okay, even if there is not a monster in existence yet, Life Out Loud Films needs one for their movie production and is holding a monster contest with prizes for the best fake monster.
Sound like fun? It gets even better. Every entry in the Monster Contest gets the chance for their monster to be used in the upcoming film, "Lake Effects". The winner(s) will also get limo rides, lunch with the cast and crew of the movie, mention in the credits, and more. You can enter with a crew of up to eight people and the monster must be complete by September 4th.
If you would like more details or to enter the Smith Mountain Lake Monster Contest simply click on the phrase Monster Contest anywhere in this post and you will find the forms to fill out and all the rules and regulations. I can't wait to see the creative results of this one. It might just be the most fun ever!