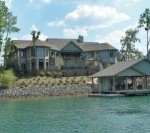 Exciting news at Smith Mountain Lake tonight! If you have never watched the Home & Garden Network channel, this would be the night to do so. The very popular House Hunters reality TV show will feature Smith Mountain Lake on their show at 10 PM!
The following is a summary from the House Hunters website:
House Hunters
takes viewers behind the scenes as individuals, couples and families learn what to look for and decide whether or not a home is meant for them. Focusing on the emotional experience of finding and purchasing a new home, each episode shows the process as buyers search for a home.
The show chose Smith Mountain Lake, one of our local real estate companies (Paul Moore and Smith Mountain Homes), and one of their clients to be representative of home owners looking for lakefront property. As we understand it, this entire week of House Hunters will feature home buyers looking for waterfront homes in different settings including a beach home, a riverfront home, etc. Smith Mountain Lake was chosen from thousands of lovely places in the U.S. for the story involving folks who want to make their home on a lake.
The show will air twice tonight (June 17th) at 10 PM ET/PT and again at 2 AM (morning of June 18th) nationwide on HGTV. To learn more, go to
www.SmithMountainHomes.com
 or visit the
House Hunters website
.  I hope you have the opportunity to watch!