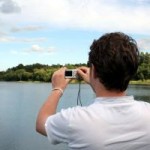 The 7th Annual "Four Seasons of Smith Mountain Lake Photo Contest" which began in August, is in full swing. But it's not too late for all you amateur photo bugs in the area to enter and win great prizes for your pictures.
If you enjoy capturing the beauty of your lake on camera and are not a professional photographer, then you are encouraged to participate in this contest. 16 cash prizes will be awarded to the lucky winners.
Guidelines include:
1. All photos must be of the Smith Mountain Lake area or activities at the lake.
2. Photographs can be color or black and white but have no frames or matting.
3. Prints must be at least 8″X10″ and no larger than 11″X 14″.
4. Digital photos are acceptable if they are high resolution.
5. Entry fee of $3 for the first entry and $2 for each additional photo.
Entrants are limited to two photos  per category.
The deadline to Enter is October 16
Winning photos may be used in SML advertising/marketing in both local and national publications.  Photo credit is given where possible.
Entry forms with the complete set of rules and model release forms are available at the SML Visitor Center or online at www.visitsmithmountainlake.com.
Free Download
The Definitive Guide To Smith Mountain Lake Real Estate
Everything you need to know about buying or selling property at Smith Mountain Lake.