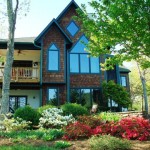 Smith Mountain Lake is known for its beautiful waters, fabulous restaurants, nearby attractions such as the Blue Ridge Mountains, bass fishing, and much more. Now it can also boast its European-style Bed and Breakfast!
Bill and Anne Piatt, the owners, have lived in Africa and Europe for many years and have incorporated their experiences into these marvelous and unique accommodations they call Sans "Souci".
Words are not adequate to describe the many beautiful features of this Private Getaway. The scenic views, the Chalet-type suites, the lovely furniture, etc. If you would like to talk to Anne and Bill, make reservations, or schedule a visit you can call them for more information at 540-297-8617 or email akpiatt@gmail.com.
Facebook page https://www.facebook.com/SansSouciSML/
Free Download
The Definitive Guide To Smith Mountain Lake Real Estate
Everything you need to know about buying or selling property at Smith Mountain Lake.