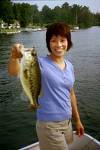 The Tues. March 6, 2007, online edition of the Smith Mountain Eagle boasts a picture of a man and a huge fish on its home page. This was the first I had heard of the Smith Mountain Striper Club (striped bass fishing, for those of you, like me who were unsure exactly what kind of club that might be).
Perhaps the avid fisher folk among us all know of this club and its yearly tournament, but in case there are more like me who were unaware, the article I have reprinted in part below by Mike Snead, talks about some pretty big fish in my estimation. Check out the picture in the Smith Mountain Eagle and if you love to bass fish, check out the Striper Club too.
The Smith Mountain Striper Club held its first member-guest tournament of the year this past Saturday and 16 teams competed. It was a two-fish-per-team tournament and with the current 26 to 36-inch slot in effect, only fish outside the slot were eligible. The striper fishing continued to be challenging and only three of the teams competing weighed fish. First place went to Team Fastrac when Macky May and David Brown brought in an incredible total weight of 33.98 lbs. This included a 39.25-inch, 28.04 lb. citations striped bass Macky caught at 5:00 in the morning. Macky May also took big fish honors with his citation.
Second place went to DeWayne Lamb and his dad, Hawk, of Team All4Fun. DeWayne reported they caught a total of 13 fish with the largest two, outside the slot, weighing 13.56 lbs. The larger of their two fish weighed 7.02 lbs. and was the second-largest fish caught in the tournament. Third place went to Frank Skillman and Ken Ulrich of Team Kenner with a total weight of 12.26 lbs. They also had the third largest fish, weighing in at 6.30 lbs. All4Fun Bait and Tackle contributed a special Youth Angler award that went to Brian Prowse. The Virginia Outdoorsman provided a similar award to the Lady Angler of the tournament and it was awarded to Jennifer Fitzgerald.
The Smith Mountain Striper Club meets the first Friday of each month at 7:00 p.m. in the Moneta Community Center. Anyone interested in joining the club is welcome to attend any meeting or can contact their membership Chairman, Tom Byrne, via email at tombyrne@att.net. The club will be holding three more Member-Guest tournaments this year on June 2nd, September 29th, and December 1st.
Provided by Mike Snead http://www.virginia-outdoors.com/smithmountainlake.html, (540) 721-4867. Located across from Wendy's at Westlake.


Free Download
The Definitive Guide To Smith Mountain Lake Real Estate
Everything you need to know about buying or selling property at Smith Mountain Lake.