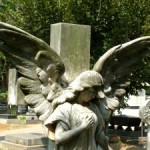 How often does the topic of angels come up during your conversations at Smith Mountain Lake? Perhaps not very frequently, and yet it is a subject that interests most people and about which most of us are curious. Famous personages like Jane Seymour find it a fascinating topic as well.
We are privileged not only to have Jane Seymour here at Smith Mountain Lake as an actress in the film "Lake Effects", but also as an acclaimed author. Her latest book is titled "Among Angels" and you can attend one of two events where Ms. Seymour will be signing copies of her book personally.
"Among Angels" celebrates the angels all around us who inspire us by bringing us messages of joy, hope, and love. The book will include a personal foreword and art by Jane Seymour, quotes from literature, spiritual texts, and personal stories that honor the importance of the angels among us.
Jane Seymour will be signing her newest book, "Among Angels" in her time off from filming Lake Effects next week! You can purchase the book at either location.
Both signings are as follows:
Tuesday, October 19, 2010, at 6:30 pm in Roanoke at the Tanglewood Barnes and Noble (4478 Electric Road Southwest, Roanoke, VA 24018).
http://store-locator.barnesandnoble.com/event/69287

Friday, October 22, 2010, at 5:30 pm at The Cottage Gate (84 Westlake Rd Ste 113, Hardy, VA 24101).