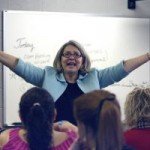 Smith Mountain Lake Christian Academy, as I am sure many of our readers remember, got off to a great start last fall and is has begun another year, offering classes in K-8.
The Academy began its second year of operations with a 15% increase in enrollment. The Academy offers a college preparatory curriculum with a biblical worldview, in a small, safe, setting. Their goal as stated on their website is as follows:
The Mission of Smith Mountain Lake Christian Academy is to grow students spiritually, mentally and physically. The foundation of the mission is set forth in the Four Principles of the Student Integrity Curriculum: developing a mind for the Master, learning that leadership is predicated on being a selfless servant, realizing the importance of being academically acute, and understanding the value of being physically fit. The total SMLCA experience should enable its alumni to be characterized as being joyful, articulate, poised, confident, humble, polite, balanced, discerning and fully prepared for their next step of life.
Applications for 2009-10 are still being accepted. Go to the SML Christian Academy Website  for more information.