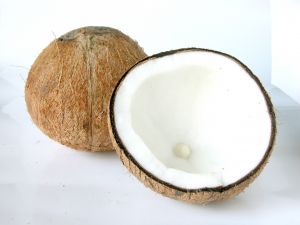 It's a shame we can't grow coconuts at Smith Mountain Lake, as they have been getting more and more press about their incredible healing properties. There is a tremendous amount of research regarding the health benefits of coconut oil that are well worth reading.
At one time it was thought that the saturated fats found in foods such as coconuts were detrimental to health. But new information shows that unrefined, cold-pressed, raw, extra virgin, unbleached, undeodorized coconut oil (basically all-natural and unprocessed) is nothing if not downright medicinal. If you have not heard about using coconut oil for thyroid function, weight loss, memory, brain function, etc. take a look at this article on Natural News.
Also, Dr. Joseph Mercola says it may be surprising for many of us to learn that the naturally occurring saturated fat in coconut oil is good for you and provides several profound health benefits, such as:
• Improving your heart health.
• Boosting your thyroid.
• Increasing your metabolism.
• Promoting a lean body and weight loss if needed.
• Supporting your immune system.
And when topically applied to the skin it has been found to have anti-aging, and regenerative effects.
Do a little google search on the benefits of coconut oil and you will be amazed at the press this fruit is getting. Look on YouTube and you will find interviews with doctors and other people using coconut oil for Alzheimer, etc. Take a look at this beneficial nut, you may find something wonderful!