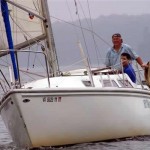 If other folks at Smith Mountain Lake have been as eagerly awaiting the release of the Lake Effects movie as I have, you will be glad to see the new SML Lake Effects Movie Website!
As most of you know the SML Community pitched in to help Life Out Loud Films produce a movie based on the life of 2 sisters at our lovely lake. That movie, "Lake Effects" is completed and should be out in theatres soon.  But in the meantime, Life Out Loud Films has put together a great website where you can watch movie trailers, meet the actors, and learn other interesting facts about the film.
Check out the Lake Effects website. It will make you even more proud of our beautiful lake and more eager to see the film! (You also might want to check out their newest big screen project with Sara E. Timmins (producer) and author David Baldacci's book "Wish You Well".)
Free Download
The Definitive Guide To Smith Mountain Lake Real Estate
Everything you need to know about buying or selling property at Smith Mountain Lake.