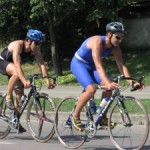 Every year the Appalachian Power Smith Mountain Lake Triathlon takes place around this time. I know many in our area eagerly look forward to this challenging and exciting competition, and this year the race will be as great as ever.
This race has been around for a long time and is one of the most popular in the area. The entire race is composed of a 750-meter swim, a 20K bike course, and a 5K Run with nearly all the events being held inside Smith Mountain Lake State Park. This event involves the first open water swim triathlon in the western part of Virginia, which will make it well worth watching.
This year the race starts at 9:00 am on May 2nd, and you may enter the competition as late as the same day of the race. Or you can go to www.commonwealthgames.org to register. Call 540-343-0987 for more information.
Free Download
The Definitive Guide To Smith Mountain Lake Real Estate
Everything you need to know about buying or selling property at Smith Mountain Lake.