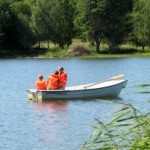 At Smith Mountain Lake, Virginia our 4-H Center is not just for 4-H camps. The W. E. Skelton 4-H Educational Conference Center is a community hub offering all sorts of great activities for everyone in the family.
For the young ones, there are outdoor education programs for all grades, Junior 4-H and 4-H Adventures, Teen Weekends, and Family Camps which include Mom and Dad. For adults, there are Road Scholar (continuing education) Courses, Adult Education (guitar, cooking, etc.), and more. Some facilities can be used for weddings, conferences, church retreats, etc. with a variety of types of lodging (as well as on-site catering) available.
That list only skims the surface. A few other interesting offerings are Friendship Retirement Community Wellness Center, recreation areas, hiking trails, free seasonal movies, pool and lake access, tennis, basketball, mini golf, and much more. If you would like to learn more about the W.E. Skelton 4-H Educational Conference Center you can visit their website or call them at 540-721-2759. The Center is one of the best SML community perks!
Free Download
The Definitive Guide To Smith Mountain Lake Real Estate
Everything you need to know about buying or selling property at Smith Mountain Lake.