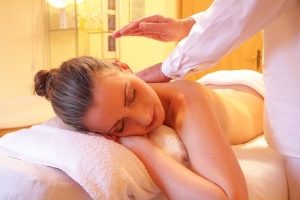 Smith Mountain Lake is by no means behind the times. We even have our own full service "Good Looks Salon and Day Spa"! They offer a package of total pampering and relaxation for the woman who feels tired and faded. Their services include certified massage therapy, professional hair (color, cut and design) styling, beauty waxing, pedicures and manicures, tanning beds, and more.
The Good Looks Salon is located at 84 Westlake Rd., Suite 112 in the Westlake Towne Center of Hardy, Virginia. You can call for more information at 540-721-4023 or fax Sally Heffernon at 540-721-0271. Their hours of business are Monday through Saturday 8:30am to 7:00pm.
If you or someone you know needs a little time for rejuvenating themselves, a day at the spa might just be worth looking into. Gift certificates available.