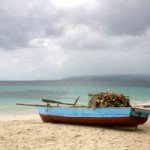 Have you ever dreamed of owning your own island? While owning an island is a dream that may never become a reality for most of us, at Smith Mountain Lake, Virginia you can enjoy your own island for a day.
Some of us are already thinking and planning for this summers vacation and may not realize that Smith Mountain Lake offers all we could imagine. Smith Mountain Lake is a showcase for a variety of uninhabited islands. These old mountaintops spring up all over the place, and most are not privately owned.
Imagine tying off your boat and wandering ashore on a private sandy beach. Don't forget your picnic basket! Your kids can disperse into the woods to play hide-n-seek or search for buried treasure, while you enjoy the warm summer sun and the sound of waves lapping against your boat. You will swim, fish and dream that it's yours for awhile.
Stay till evening, watch the sun go down together and start a fire on the beach. Roast hot dogs, make s'mores, and tell stories. You may even decide to pitch a tent and stay overnight. You're allowed to… and it's a lot of fun!
Give us a call today if you want to see these islands in person. We'll send you a map and other information to get you started. (Yes, your kids can mark it up as a treasure map. It has served many families well in this capacity!) Here's to Island Dreaming! Contact Paul Moore at Smith Mountain Homes at (877)-765-4663 or email Paul and the Smith Mountain Homes team today.
PS: If you would really like to own an island in Smith Mountain Lake, there are a few of them which are privately owned. One is for sale. It has two lovely homes, a lighthouse and boathouses…

Free Download
The Definitive Guide To Smith Mountain Lake Real Estate
Everything you need to know about buying or selling property at Smith Mountain Lake.