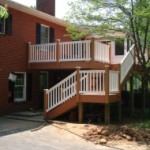 With temperatures warming slightly at Smith Mountain Lake, thoughts of spring cleaning and work needing to be done around the house comes to mind. It seems each time we accomplish a project we notice another needing our attention. Thankfully some of those jobs that we are not equipped to do on our own, can be hired out to local businesses, which benefits both us and them. Take time to see if any of the listings below would benefit your spring labors at the lake.
Westlake Wash, LLC specializes in those hard to get to windows on your lake home. They have all the right equipment & take the greatest care in their work, respecting your home in the process.  We can clean out those gutters too! Many references are available!  Call 540-797-9117 for a quote.
You will fall in love with SUPERIOR WALLS.  The only certified Green building concrete wall system on the market.  SUPERIOR WALLS are the Best foundation or above-grade walls you can build with. Build dry, warm, and smart with SUPERIOR WALLS.  Call Today at 1-866-350-9255 or visit www.superiorwallsva.com.
Let CLEARVIEW RAILING give you a clear view for spring. They offer an all-aluminum, maintenance-free, tempered glass deck railing system.  Their product comes in 7 standard colors and can be also used for balconies and stairs inside and outside your home.  Go to www.excellrailing.com or call Butch Traylor for a free estimate at 540-761-8058.
Free Download
The Definitive Guide To Smith Mountain Lake Real Estate
Everything you need to know about buying or selling property at Smith Mountain Lake.