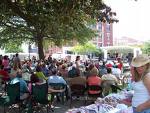 Although this speaking engagement is to take place in Roanoke rather than at Smith Mountain Lake, it could very well turn out to be worth the drive. The speakers are both Christian and unusual to some degree; appreciated by many, avoided by others. The night will undoubtedly be both interesting and challenging for those who attend.
On April 21st at 7:00 pm at the Roanoke Civic Center, all comers can hear speakers Tony Campolo and Ken Medema. Dr. Tony Campolo is known as the 'Positive Prophet' and Ken Medema is an excellent musician and storyteller.
Ken Medema can summarize a sermon, a testimony, or a discussion with an impromptu song that embodies what was said, and to make it sound as if it were the final, masterful take in a recording studio.
Dr. Campolo is a well-known and somewhat controversial pastor, author, and public speaker known for challenging Christians by illustrating how their faith can offer solutions in a world of complexity. He also believes there is no concern in scripture mentioned more than reaching out to the poor.
Admission is FREE with a limit of four tickets per person. – The Berglund Center, Williamson Road, Roanoke – 540-853-5483 – The Berglund Center.