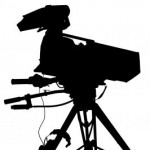 Near the end of June, you may have seen what looked like movie crews and cameras around Smith Mountain Lake. You were not imagining things.
On June 25th, movie director, Mike McKay, flew into Smith Mountain Lake to meet Sara Elizabeth Timmins and her newest assistant, Samantha Robertson for the "Lake Effects" movie shoot. Director of Photography, Matt Boyd, and a variety of actors and actresses arrived later to join the busy week.
Sara Elizabeth, Mike and Matt spent a lot of time scouting summer insert shot locations for Friday's shoot, (which took place at various spots in and around the lake). They also scouted for future location shots for production, which will take place in October.
With a lot of help from locals including Bill and Sue Timmins (who helped out with transporting the team to various locations among other things), the film shoot was accomplished. The Lake Effects team would like to thank their many supporters, friends, volunteers, and talent for making the June shoot as successful as it was!
You can get involved in the Lake Effects movie being filmed at Smith Mountain Lake. If you want to help email them at info@lifeoutloudfilms.com. They still need volunteers for many things including:
Frequent Flyers/Friends of Frequent Flyers:
They are still in need of donors of frequent flyer miles/credit card reward points that can be used for miles.
Email Subject Line: "Frequent Flyer Miles"
Caterers/Restaurants and their Friends:
They are also still in search of caterers/restaurants to donate meals to feed our cast and crew. Please let us know your ideas!
Email Subject Line: "Catering"