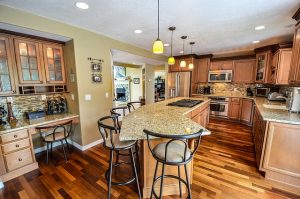 The folks at Team Roanoke Realtors have put together a package of ideas for homeowners at Smith Mountain Lake and surrounding areas to aid in the process of remodeling your home. As we all know, tearing down and rebuilding things can be a nerve wracking ordeal if not carefully planned. There are some practical guidelines to make that kind of experience less stressful, as you will see in the following article.
Remodeling is exciting in the beginning, but as the excitement of the renovations begin to take longer than you expect, you struggle to remain sane among the chaos. Living among the ruins is more difficult than first anticipated. But do not fret, because there are practical ways to keep everything running as smoothly as possible. Try applying a few of the following ideas.
Clearly Communicate with Your Contractor:
Make sure everyone is on the same page as to when the project will be completed and what materials they will/will not use.
Discuss what their work hours will be and when other contractors are scheduled to come.
If the contractor is given a key, make sure they know you are giving them responsibility.
4. Give guidelines for all workers to follow. Can they use the phone? Where should they park their trucks? Can they listen to the radio, and if so, how loud?
5. Create a space for the workers to keep their tools and supplies and make sure they know that space is for them.
6. Specify to them which bathroom they can use and where they can clean brushes.
7. Alert the workers to schedule times when the power or water will be turned off, so that you are aware.
8. Expect delays. Unforeseen problems such as a missing worker, late arrival of materials, and such will keep your project from on time completion.
9. If you have to make changes to something the contractor has already done, go straight to your architect, contractor, or their supervisor.
10. Offer the workers something to drink and perhaps a snack. Workers that are happy, work harder, go the extra mile, and are more willing to return later when you need repairs.
Team Roanoke Realtors
Wainwright & Co
1202 Electric Road, Ste A, Salem, Virginia 24153
Phone: (877) 765-4663
Fax: (540) 904-2139
Info@TeamRoanoke.com