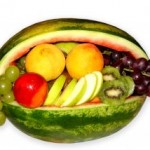 The 21st is officially the first day of summertime, and at Smith Mountain Lake that means good food. Cookouts, campfires with hot dogs and smores, family reunions, ice cream, grilling in the backyard, and much more.
Wonderful stuff…but if you are trying to be weight-conscious, summertime can be a challenge. Well, I found a fabulous website with 10 great summertime recipes on it that are both healthy for those keeping tabs and delicious to boot.
I was going to share just a couple of Janice Taylor's delightful recipes with you, but then I decided it was too hard to choose between them. How could I pick salmon teriyaki over watermelon soup or Mediterranean pasta salad? So I will let you choose which of these tasty dishes you would like to try for yourself.
You can visit 10 Healthy Summer Recipes by clicking this link http://www.beliefnet.com/Love-Family/Recipes/10-Healthy-Summer-Recipes.aspx.