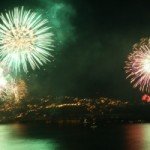 It is hard to believe it is time for 4th of July celebrations at Smith Mountain Lake again. But no matter how old we are we never lose our enjoyment of big sparkling lights and colorful explosions in the night. Watching the fireworks at the lake just adds another amazing dimension to the fun because they are reflected in the lake waters. Don't miss out on the 4th of July events this year.
Actually this years fireworks are going to be on the 3rd of July with the 4th of July being the fallback for a rain date. The Saunders Volunteer Fire Company will present its annual Smith Mountain Lake Fireworks and Fire Company Fundraiser hosted at the Parkway Marina in Huddleston. Besides their famous firework display there will be live music, a car and boat show and much, much more.  Beginning at 3 p.m., you can enjoy amusement rides, crafts, lots of yummy food and music by The Worx – before the grand finale.
Mariners Landing's July 4th Celebration will have a concert and Fireworks Finale  – Symphony at the Lake. The concert will feature the Roanoke Symphony String Virtuosi and more! Mariners Landing is your destination for great special events, so please visit Mariner's Landing on the web for details.
Join Hickory Hill Vineyards for Sunset Saturday on July 3rd.  Listen to acoustic musicians while enjoying a relaxing evening of close friends, family fun and award winning wine!  Bring a picnic, chairs and blankets from  7-10 pm. Admission is $7.00. Visit www.SMLwine.com for more info. or call 540-296-1393.