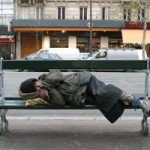 There is a wonderful ministry at Smith Mountain Lake, Virginia called the Agape Center. The Agape Center exists to help those who may need clothes, food, basic appliances, furniture, financial assistance, and other household items. But they especially have the heart to minister to those in need of the love of Christ (which is what the word "agape" means).
The Agape Center has around 100 staff members keeping operations running smoothly and since the ministry relies totally on donations, they are all serving on a volunteer basis. This also means your donations are appreciated: towels, sheets, canned food, clothing, household needs, and money.
The Agape Center was born of a desire 4 local churches had to try and meet needs within the community. Eastlake Community Church, Covenant Fellowship, Dwelling Place, and Radford Baptist Church came together to show God's love to those in their area who are in need.
We need more of these kinds of places in our communities. If you would like to know more about the ministry offered by the Agape Center, or how to contribute to the great things taking place there call 540-296-0609 or visit them at 12361 N Old Moneta Rd, Moneta, VA.