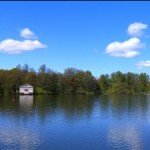 Pittsylvania is the third county which makes up the border of Smith Mountain Lake. Pittsylvania County comprises much of the far southeast corner of the lake and includes Smith Mountain itself as well as the dam. While this county has a small percentage of the residences at Smith Mountain Lake it has fantastic views and a few notable developments.
Pittsylvania County
Pittsylvania County includes a mix of million dollar plus homes, older cottages, and trailers that are being displaced every year. The developments here are all on or near Smith Mountain Road, the main route through this area. This road leads north across a prominent peninsula to Vista Pointe Condos, one of the most prolific buildings on the lake. Vista Pointe Condos feature amazing views of Smith Mountain to the east, the Roanoke Channel in three directions, and the Blackwater Channel to the west. This development includes a large swimming pool and sandy beach.
Pittsylvania County is home to Sanctuary Bay, one of the lake's up and coming subdivisions. Developed by the experienced team of Erik Plyler and company, this beautiful neighborhood includes 27 lots and nearly 100 planned upscale townhomes. Many of the views there are breathtaking. One home being built there is more than 10,000 square feet. In 2006, a lot there resold for more than $1.3 million, the third most expensive in the lake's history. The waterfront lots at Sanctuary Bay all sold out within weeks of being offered for sale, and the townhomes also promise to be a success.
The Smith Mountain Lake Dock and Lodge is also in Pittsylvania County. One of the older marinas on the lake, it is getting a makeover by developers Dennis Sparks and James Barber and will soon be known as The Village. These luxury condos will include a pool, a full service marina with wet and dry boat storage and many upscale amenities.
Lumpkins Marina, the lovely Three Pointe Isle neighborhood, and the Visitor Center at Smith Mountain Dam are also in Pittsylvania County. The county has seen only about 20 waterfront residential sales in the past three years, more than half of which were condos at Vista Pointe. About a dozen lots have sold in the same time, nearly all of which were Sanctuary Bay resales.
Excerpts are from the book "The Definitive Guide To Smith Mountain Lake Real Estate", by local author Paul Moore.